Project Name: Express Condos
Developer: Malibu Investment
Est. Occupancy: 2021
Number of buildings: 3
Number of stories: 16,16,13
Total Number of Suites: 651
Location: 4-6 Tippett Rd, Toronto, Ontario
Express Condos is a new condos project by Malibu Investments, located at 4-6 Tippett Rd, North York In Tronto, architect by RAW Design. The Amenities included 24 hours concierge, fitness centre, party room and more.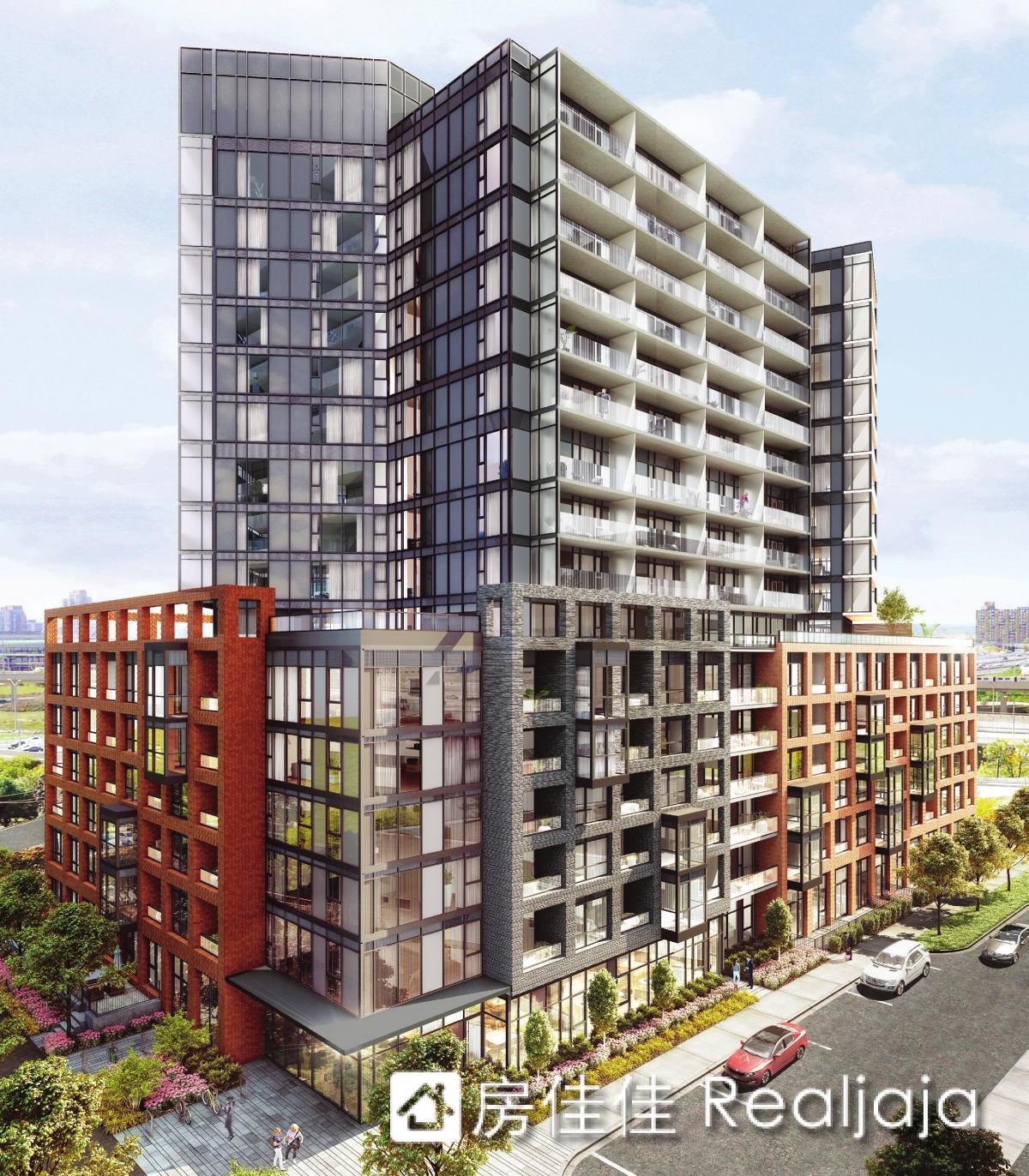 PLATINUM SERVICE
♦ FREE Furniture
We give free luxury furnitures for the whole suite
♦ Rental Guarantee
We guarantee the rentals upon closing ①
♦ Best Suite and Price
Platnium Sales with VVIP Pricing and Suites
Conditions Apply
① Select either Free Luxury Furniture or Guaranteed Rental, two promotions cannot be used at the same time.


Pictures shown above are for illustration purpose only
Community
The project is located in the Wilson Heights neighborhood in North York. The area is turning out to be among the fastest growing areas in the GTA because of the Tippett Road Regeneration Study. York University, which is Canada's third largest University is only a 20-minute drive away. The area adjacent to Wilson Subway Station is experiencing a rapid change with many new residences breaking ground close by.
Express Condos nearby is Downsview Park with an Events Centre that always has something going on. There are great activities like squash at the Squash Academy, water play at the splash pad, climbing at True North Climbing and four-wheeled fun at GrandPrix Kartways. At Earl Bales Park, the City's third largest park, winter in the City is just minutes away. Ski, slide and snowboard on Toronto's largest hill. In the summer, have fun at the splash pad, ride the bike trails, just relax and enjoy the great outdoors, take in a concert, enjoy family movie night or the famous Arts and Music Festival.
Shop the latest trends at Yorkdale Shopping Centre. Dining out tonight? The neighbourhood has every taste well represented, from steak to sushi to Italian and Thai, not to mention lox and bagels from Bagel World.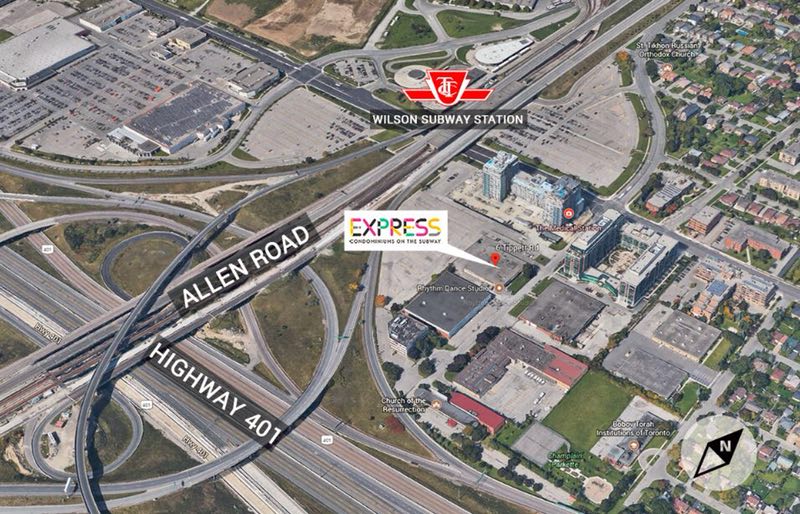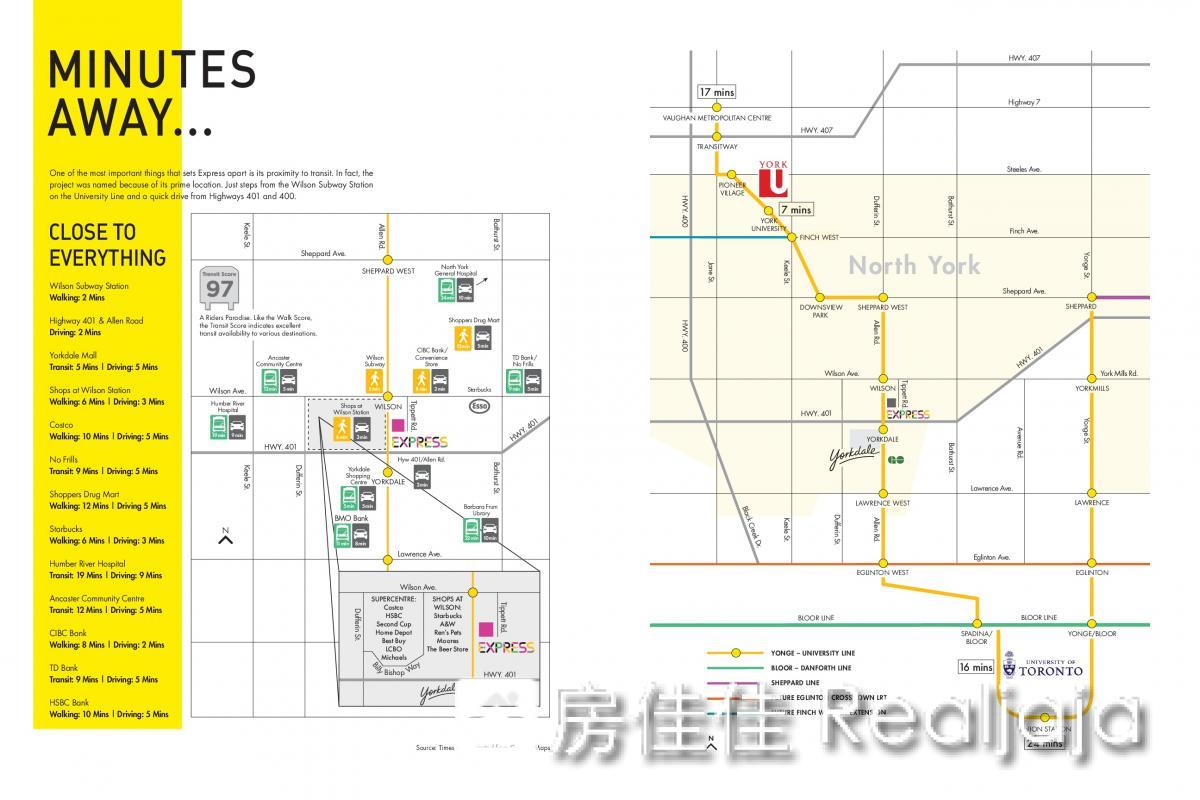 Location
· Very close to Yorkdale shopping mall
· Minutes drive to Hwy 401, Hwy 400 and Allen Road

· Very close to Yorkdale shopping mall
· Very close to Wilson subway station
· Steps to all major 5 banks,Friendly neighbor
· Steps to Supermarket, drugstore, library and parks (Baycrest Park, Woburn Park, Conlands Parkette)
· Has a Walk Score of 53 out of 100, tranist Score 94 out of 100
Developer
Based in Toronto, Malibu Investments Inc. is a real estate developer that has been executing projects in the city for ten years now. Even though the firm is comparatively new, it has distinguished itself as a valuable developer in the GTA, boasting of 3,500 residential suites. The developer has been passionate about aesthetics and design and uses the newest and state-of-the-art building materials coupled with current building practices.

Floor Plan
2 Bed with 1 bath
Gallery